The Past, Present, and Future of THE STORY
For every child of God defeats this evil world, and we achieve this victory through our faith.
(1 John 5:4, NLT)
God's STORY leaves no doubt about it: Together they [Satan and his allies] will go to war against the Lamb, but the Lamb will defeat them because he is Lord of all lords and King of all kings (Rev 17:14a). Jesus Christ has won against all of his enemies! The victory is his, and it is now just a matter of time before he comes again and puts a final end to Satan's destruction in this world. But don't miss the rest of that verse: And his called and chosen and faithful ones will be with him (v 14b). Jesus has won the victory, and we who have faith will be included with him! Do you ever need confidence in this world? Do you ever need reassurance of your salvation? Do you ever doubt or question your future? No need! See the headlines now: WE WIN!
Watch these videos as you read THE STORY this week.
"1 John At A Glance"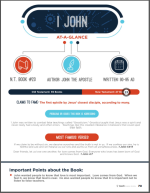 "2 John At A Glance"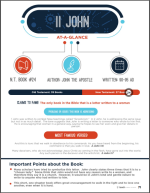 "3 John At A Glance"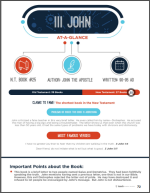 "Revelation At A Glance"