God Instructs His People for Holiness
Be holy because I, the LORD your God, am holy. (Leviticus 19:2)
Israel had followed God's careful instruction and built a sacred tent representing the presence of their Holy God among them. But it would take more than a physical structure for God and His people to live in relationship with each other. The book of Leviticus taught them how to living in fellowship with Yahweh. The book can be divided into two sections: "The Way to God" (chs 1-17) and "The Walk with God" (chs 18-27).
Watch these videos as you continue THE STORY in Leviticus.
"Leviticus At A Glance" "Numbers at a Glance"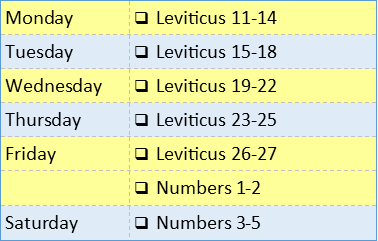 Reading LeviticusOfferings in Leviticus